October is Breast Cancer Awareness month, so we thought we would bring to your attention one way in which you can help to support the cause as well as ensuring that you are disposing of your unwanted bras in an environmentally friendly way. 
With breast cancer affecting at least 55,000 every year in the UK alone, it really is important to fund the vital pioneering research that will improve outcomes from this terrible disease. And by recycling your bras, you can do this very easily as well as helping to support women and businesses in developing countries.
How Do I Recycle My Bra?
You can donate your bra to the charity Against Breast Cancer through their network of bra banks. To find your nearest bra bank click here. They are often in lingerie shops or community hubs. Or if you don't have a bra bank near you, you can post them to Against Breast Cancer Recycling Scheme, Leathem House, 13 Napier Court, Barton Lane, Abingdon, Oxon OX14 3YT. Please remember to add the appropriate postage to your package.
What Happens to Your Bras?
Those bras that can be, are used to support small businesses in developing countries in Africa and around the world where bras remain expensive to produce locally. They are provided to women to sell on and create a living for themselves. Those that aren't suitable for that purpose are responsibly dismantled and disposed of.
For every tonne of bras collected, the charity Against Breast Cancer, receives £700 to fund research. That really is amazing!
Get Involved and Set up a Bra Bank!
If you wanted to do more to help Against Breast Cancer raise money, then you may want to consider having a bra bank at your place of work. They are free of charge and when you have collected 300 bras they will arrange for a free collection. You can order one on their website here.
Nearly New Bras
If you have bras that have only been lightly worn, or you've bought a brand new one that is no good to you and you can't return it, you can also send them to the charity, Smalls for All®.   Just pop them in the post to Smalls for All,  Five Sisters Business Park, Westwood, West Calder, EH55 8PN. Smalls for All also distribute bras and also other underwear to those most in need in Africa and the UK.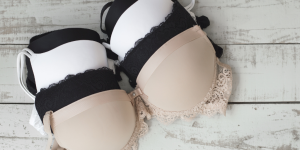 Time to Buy New Bras?
And if you want to do the best for your environment when buying new bras, here are our top tips:
Buy the best quality that you can afford. When it comes to underwear you nearly always get what you pay for!
Try and choose sustainable fabrics. Of course it's not always easy to know exactly what that means, but generally less man made fibre is best. Man-made generally means plastic which ultimately means it won't biodegrade. You may find some products are more expensive, but again, companies that take the time to think about their sustainability will generally also produce a better quality product.
Take care of your bras – wash them on a gentle cycle or in a bra bag, and don't wash them too frequently. It's probably not necessary.
And to find out more about recycling for charity, check out our Recycle for Charity section on our original blog at www.wastenotwantnotliving.co.uk
Thank you everybody. We know that every B cup, D cup and E cup will be gratefully received.