So the countdown to Christmas has officially begun, although in this house it's been going on for weeks. My daughter is Christmas crazy! If your house is bedecked with advent calendars for every family member, we're here to help you ensure that they are disposed of in the best way possible.

This year I've indulged myself and my product crush of the year in a major way by buying myself a @tonyschocoloney advent calendar. Usually everybody including the dog have a calendar except me, but I just couldn't resist it.

The moment I saw a Tony's Chocoloney bar it was love at first sight, and then at first bite. The beautiful retro and colourful packaging transported me back to the pages of Charlie and the Chocolate Factory when Charlie found the magical golden ticket! I will never forget reading it – it makes me emotional thinking about it. As a brand they are awesome too – plastic free and ethical. But I digress.

Usually around this time of year I also write a blog post about the best way to do advent from a waste reducing point of view. But this year I felt it was less necessary, partly because frankly there are loads out there, and secondly because the truth is that things are getting better in terms of product manufacture and recycling.
With manufacturers and retailers having to up their games in terms of environmental responsibility, we thought that this year we would acknowledge that and give you an updated guide on how to recycle your advent calendar.
Supermarkets are now offering more extensive recycling options especially for soft plastics which include confectionary wrappers, and big brand names are using more 'recycled' materials in their products to avoid additional taxation coming into force in April 2022.
However, in order to allow manufacturers to use recycled materials, we as the consumers must get better at recycling! That's on us!
There should now not be any part of an advent calendar that is not recyclable in theory, bar embellishments or contents, although we understand people's geographical variations.
So here, for a change is a very simple guide to what to do with what remains of your advent calendar.
Most importantly, enjoy the daily routine of a tiny bit of extra indulgence this month. Lord knows most of us could do with it.
And if you have any questions regarding recycling, feel free to ask us any time.
Here is a very simple guide to what to do with what remains of your advent calendar this year whether you've gone plastic free, reusable, charitable, fair trade, vegan or anything else in between.

🎄 Separate out all parts of your calendar into cardboard and plastic, and foil too although beware plastic that looks like foil!

🎄 Put any paper or cardboard elements into the right recycling bin for your area

🎄 Save the individual wrappers if they are plastic as well – you can recycle them!
🎄 Soft plastics including most sweet wrappers are now recyclable at supermarkets. Tesco's, Sainsbury's and the Co-op at the very least, will recycle any soft or stretchy plastic in store. 
🎄 You may also want to find out if there is Terracycle Confectionary Recycling Programme near you as these are often for the benefit of charity organisations. Go to www.terracycle.com for more information.

🎄 For the stiffer plastic parts, kerbside recycling varies hugely by region. But they should be recyclable either at home or at a supermarket. Do some research on your local district council website.

🎄 Gather any foil elements together no matter how small in an old tin – when the tin is full, pop the whole thing into the recycling

But listen, most of all enjoy, especially if your children wake you up at 6.00am for the next 23 days to scoff chocolate before breakfast! My daughter is 12 now and I feel like these experiences are going to end way too soon!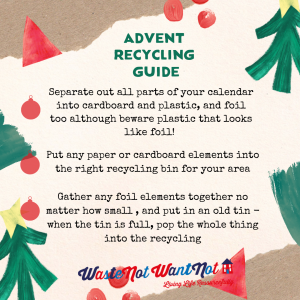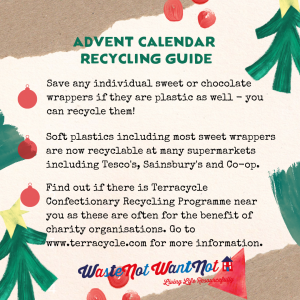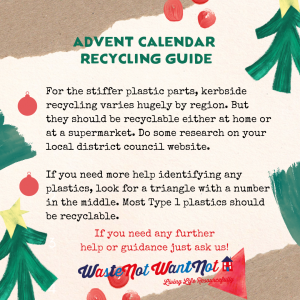 [caldera_form id="CF59c12cb6d3b47″]